Info –IDnation, Romance adalah salah satu genre anime yang memiliki banyak peminat. Banyak sekali orang yang suka nonton anime romance, apalagi dengan adanya tambahan unsur komedi yang akan membuatnya semakin asik ditonton. Karena banyak anime dengan genre romance comedy yang bagus. Beberapa diantaranya bahkan sampai diadaptasi menjadi sebuah seri Live Action. Ya, walau tidak semuanya bagus, tapi banyak juga kok yang layak tonton sampai bikin kamu baper.
Berikut 10 Live Action anime romance terbaik yang wajib kamu tonton!
1.Anohana Live Action (2015)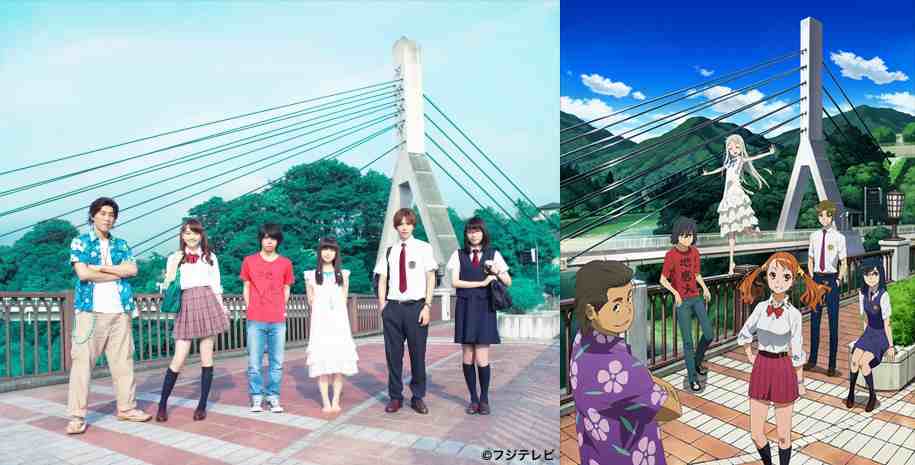 Film jepang ini diadaptasi dari anime dengan judul yang sama. Film ini menceritakan tentang persahabatan 6 anak, yang terdiri dari 3 anak laki-laki yang bernama jintan, popo, yukiatsu dan 3 anak perempuan menma, anaru, tsuruko. yang mana 1 diantara mereka meninggal yaitu anak yang bernama menma, namun arwah menma datang menghampiri jintan, yang bertujuan untuk menghidupkan kembali persahabatan masa kecil mereka yang terjalin, karena semenjak mereka remaja mereka sudah memulai dengan kehidupanya masing-masing.
dalam cerita film ini, jintan berusaha untuk mengabulkan keinginan menma sejak kecil yaitu menyalakan kembang api super, dengan itu menma akan kembali dengan tenang. Dalam film ini terdapat isah persahabatan, kekeluargaan dengan bumbu cinta ala anak remaja. penasaran kan dengan cerita lengkapnya yang beitu menguras emosi, langsung aja ditonton filmnya.
2. Shigatsu wa Kimi no Uso (2016)
Shigatsu wa Kimi no Uso menceritakan seorang anak yang berbakat dalam bermain piano bernama Kousei Arima. Kousei adalah murid smp berumur 14 tahun yang dari kecil memiliki bakat bermain musik di bidang piano, hal itu terbukti dari prestasi mendominasi kompetisi musik apapun. akan tetapi setelah ibu sekaligus pelatih dari Kousei meninggal, ia memutuskan untuk berhenti bermain musik.
Hidup Kousei seakan biasa saja saat itu, dia hanya mau berhubungan baik dengan 2 sahabatnya di bangku smp. 2 tahun setelah Kousei berhenti bermain piano, dia bertemu dengan gadis pemain violin/ biola Kaori Miyazano, gadis ini lah yang selalu menyemangati Kousei dan perlahan – lahan mengembalikan Kousei ke dunia musik lagi. Nuansa romance ditayangkan dalam anime ini, ending dari anime sendiri yang sangat menyentuh. Anime ini sangat cocok untuk kalian yang suka dengan film romance karena ceritanya tidak kalah dari drama korea maupun cerita romantis dari eropa.
3. One Week Friends (2017)
Live action anime terbaru 2017 berikutnya adalah One Week Friends (Ishuukan Friends). Anime ini mengisahkan tentang Yuki Hase (Kento Yamazaki) dan Kaori Fujimiya (Haruna Kawaguchi). Yuki Hase ingin berteman dengan Kaori, namun Kaori selalu menolak ketika Hase mencoba mendekatinya. Hal tersebut dikarenakan Kaori menderita penyakit aneh yang membuatnya melupakan segala hal tentang teman setiap hari Senin.
Meskipun Kaori telah mengatakan fakta sebenarnya kenapa ia tidak mau berteman dengan Hase, namun Yuki Hase tetap bersikeras untuk berteman dengan Kaori meski terus dilupakan setiap hari Senin tiba. Salah satu live-action anime terbaik ini pasti akan membuatmu baper.
4. Ao Haru Ride (2014)
Ao Haru Ride mengisahkan siswi SMA bernama Futaba Yoshioka yang akhirnya bertemu dengan cinta pertamanya setelah menghilang saat SMP. Dengan nama dan sifat yang baru, Kou Mabuchi bukan lagi cowok yang Futaba kenal. Saat dia berusaha memahami dan jatuh cinta lagi pada Kou, Kou masih berkutat dengan hal yang mengubah sifatnya. Akankah Kou kembali menjadi dirinya yang dulu?
Ao Haru Ride versi live-action menyuguhkan kisah yang mirip dengan anime-nya. Cinta segitiga, persahabatan, dan semua hal tentang "serial cantik" ada di sini. Chemistry Tsubasa Honda dan Masahiro Higashide sangat mirip dengan serial anime-nya. Ao Haru Ride versi live-action berhasil menyuguhkan kisah romantis yang dikemas apik.
5. Heroine Shikkaku (2015)
Heroine Shikkaku (ãƒ'ロã'¤ãƒ³å¤±æ ¼, lit. No Longer Heroine/Heroine yang Gagal) adalah manga karya Momoka Koda yang kemudian diadaptasi menjadi sebuah live action, dengan pemeran utama Kiritani Mirei, Yamazaki Kento, dan Sakaguchi Kentaro. Film ini dikeluarkan pada 19 September 2015 dengan Hanabusa Tsutomu sebagai sutradara.
Heroine Shikkaku berpusat pada Matsuzaki Hatori (diperankan oleh Kiritani Mirei), seorang siswi SMA, yang telah menyukai teman masa kecilnya sejak lama, Terasaka Rita (diperankan oleh Yamazaki Kento). Hatori percaya bahwa lambat laun, Rita akan memilihnya sebagai heroine (tokoh utama perempuan) dalam kisah hidupnya. Kemudian harapan itu pupus ketika Rita justru mulai berkencan dengan Adachi Miho (diperankan oleh Wagatsuma Miwako). Di tengah rasa sakit hati dan keputusasaannya, Hatori mulai didekati oleh Hiromitsu Kousuke (diperankan oleh Sakaguchi Kentaro), seorang playboy yang menaruh perhatian pada dirinya dan berusaha untuk merebut hatinya.
6. Orange (2015)
Film "Orange" Live Action menceritakan tentang seorang gadis yang bernama Naho Takamiya diperankan oleh Tao Tsuchiya yang secara tiba-tiba mendapatkan sebuah surat yang di tulis oleh dirinya di masa depan (10 tahun mendatang). Pertama kali Ia menerima hal tersebut tidak mempercayainya dan setelah beberapa kejadian yang di alami Naho sama dengan yang tertulis dengan apa yang ada di surat terssebut akhirnya Ia mempercayai surat tersebut.
Di dalam surat tersebut semuanya sesuai dengan kejadian yang di alaminya termasuk kedatangan seorang murid SMA pindahan yang bernama Kakeru Naruse diperankan oleh Kento Yamazaki.
Selain itu isi surat juga tertulis bahwa dirinya akan menyukai Kakeru dan harus menjaganya terus. Kakeru Naruse dilakukan bekas luka emosional dari bunuh diri ibunya dan ia meninggal satu tahun kemudian. 2 Tahun sisa SMA Naho Takamiya dengan sebuah pengetahuan dari surat masa depan nya Ia mengambil tindakan untuk mengubah masa depannya.
7. Tomorrow I Will Date With Yesterday You (2016)
Film Tomorrow I Will Date With Yesterday You, ini menceritakan kisah cinta yang rumit antara Takathosi Minayama dan Emi Fukuju  yang pertama kali bertemu di sebuah kereta namun ada rahasia tersembinyi di balik pertemuan mereka.
Ternyata mereka hidup dan bertemu dalam dimensi yang berbeda dimana Minayama hidup di masa depan dan Emi hidup di masa lalu dan mereka bertemu setiap lima tahun sekali. Bisa dibilang masa lalu Minayama adalah masa depan  Emi dan masa depan Minayama adalah masa lalu Emi.
Dalam salah satu cuplikan menampilkan bahwa saat Emi berusia sekitar 30 tahun ia bertemu dengan Minayama yang masih berusia 10… Wahhh gak kebayang kan. Film jepang memang terkenal dengan tingkat kreatifitas yang tinggi di film ini pun banyak adegan yang bisa buat kita baper tak tertahankan.
8. Ore Monogatari (2015)
Menceritakan kisah Gouda Takeo yang merupakan pelajar kelas satu SMA yang berperawakan besar dan sangar yang selalu gagal dalam kisah percintaan. Setiap Takeo suka kepada seorang wanita, wanita tersebut tidak pernah menerima cintanya dan malah menyukai sahabat Takeo, Makoto Sunakawa. Hal tersebut terus terjadi sejak dia masih kecil sampai masuk SMA.
Hingga pada akhirnya Takeo berhasil menemukan cintanya. Dia adalah Rinko yang ia temui pertama kali saat berangkat sekolah menggunakan kereta. Saat itu ia mendapati seorang pria yang ingin melecehkan Rinko di dalam kereta. Saat itu juga Takeo dengan sigap menggagalkan aksi pria tersebut.
Rinko yang merasa tertolong lantas berterima kasih kepada Takeo, dan ternyata momen tersebut langsung membuat Takeo menaruh hati pada Rinko. Selanjutnya kamu akan diperlihatkan bagaimana Takeo mengejar cintanya. Tentu saja tidak semuanya berjalan mulus, ada beberapa konflik yang harus kamu tonton sendiri.
9. Ookami Shoujo to Kuro Ouji (2016)
Bercerita tentang Erika Shinohara (diperankan Fumi Nikaido), siswa SMA tahun pertama. Saat berbicara dengan teman-teman nya, dia mengarang cerita mengenai "pacar" nya.
Pada kenyataannya, Erika Shinohara tidak punya pacar. Saat itu juga, teman-teman Eriko mulai meragukan cerita nya dan Erika juga kehabisan kata-kata untuk berbohong. Erika kemudian melihat seorang cowok tampan di jalan dan mengambil fotonya secara diam-diam. Dia kemudian menunjukkan fotonya ke teman-temannya dan mengaku kalau cowok dalam foto tersebut adalah pacarnya.
Cowok dalam foto ini adalah Kyouya Sata (diperankan Kento Yamazaki) yang ternyata juga bersekolah di sekolah yang sama seperti Erika. Dia mengatakan sejujurnya kepada Kyouya tentang situasinya dan meminta dia untuk berpura-pura imenjadi pacarnya. Meskipun Kyouya memiliki penampilan yang tampan dan terlihat baik, ternyata ia memiliki sisi gelap yang tidak diketahui oleh banyak orang termasuk Erika.
10. Relife (2017)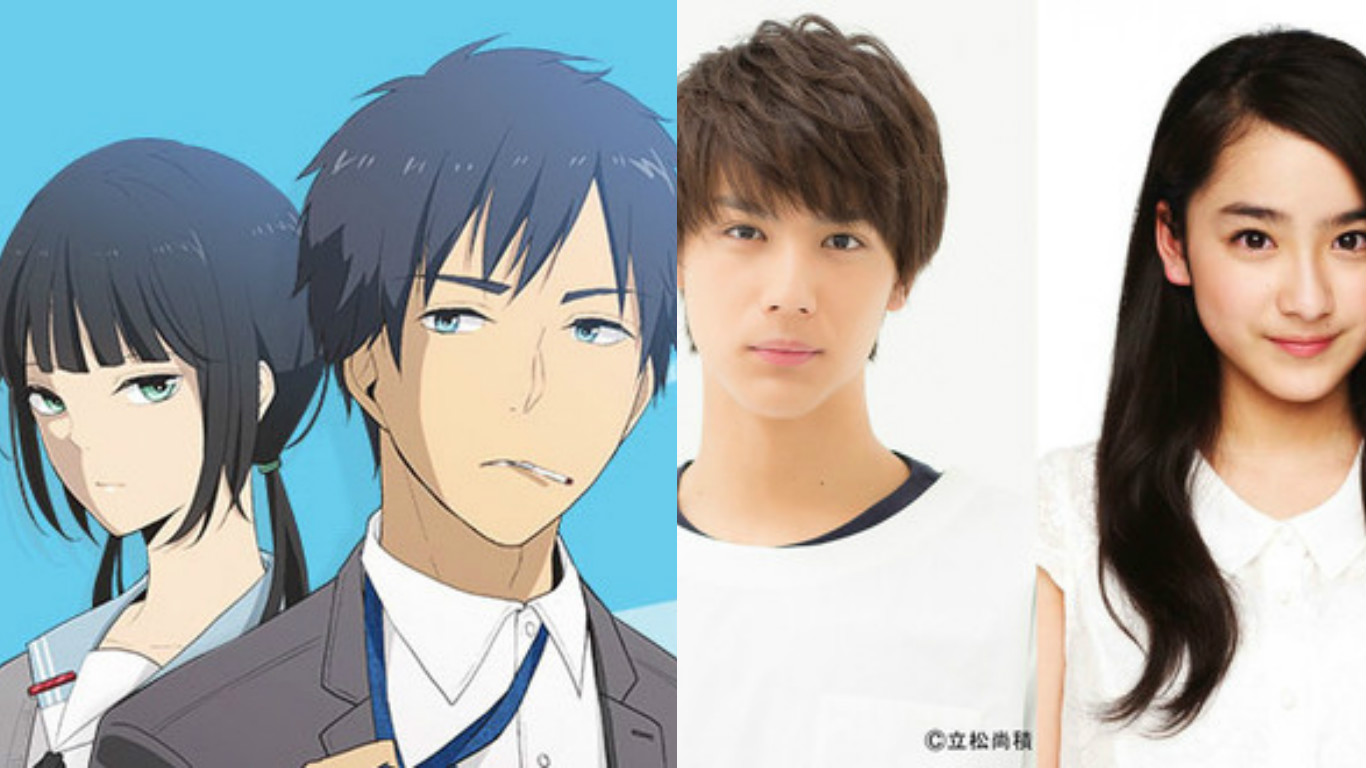 Cerita bermula saat Kaizaki Arata Diperankan Nakagawa Taishi yang sulit mendapat pekerjaan setelah bekerja selama 5 bulan. Ketika ia diambang keputusasaan, Arata bertemu dengan Yoake Ryou (diperankan Chiba Yudai) Arata pun ditawari masuk program Relife dan mengulan hidupnya pada usia 17 tahun, jika ia setuju ia akan menjadi subjek penelitian selama satu tahun. Arata pun setuju dan menerima tawaran tersebut.
Keesokan harinya ia terkejut bahwa fisiknya telah berubah menjadi muda lagi. Pada saat di SMA Arata bertemu dengan Reina Kariu (diperankan oleh Elaiza Ikeda) dan dari sinilah cerita percintaan dan persahabatan yang kental dimulai… Namun sayang Arata harus kembali ke kehidupan aslinya selama satu tahun. Film romantis jepang memang terkenal dengan cerita yang berbeda dan cerita yang fresh serta adegan yang soo sweet…
Itulah beberapa anime live action yang bertema romance, wajib kalian nonton bagi yang belum pernah!
Sumber: reelrundown , heartofmanga