Idnation.net — Hari pertama Overwatch League dibuka dengan pertandingan Los Angeles Valiant melawan San Francisco Shock. Selanjutnya, match kedua tim yang bertanding adalah Shanghai Dragons dengan Los Angeles Gladiators. Dan match ketiga sebagai penutup Day 1 Overwatch League dengan tim Dallas Fuel melawan tim Seoul Dynasty.
San Francisco Shock vs Los Angeles Valiant
Match pertama dimulai dengan tim San Francisco Shock melawan Los Angeles Valiant.  Dengan Game 1 berlokasi di Dorado, Game 2  di Temple of Anubis, Game 3 di Ilios, dan Game 4  di Numbani. Pada Game 1, Valiant menang dengan skor 3-2 atas Shock, lalu di Temple of Anubis dengan skor 4-3, Ilios dengan skor 2-1, dan yang terakhir skor 2-1 di Numbani. Tim dive comp milik Valiant tidak mampu dihalau tim Shock , yang awalnya percaya diri dengan playstyle mereka yang anti-dive. Untuk beberapa alasan, tim Shock tidak dapat bermain dengan presisi lambat yang mereka inginkan. Skor akhir 4-0 mengakhiri match pertama dengan Valiant sebagai pemenang.
Shanghai Dragons vs Los Angeles Gladiators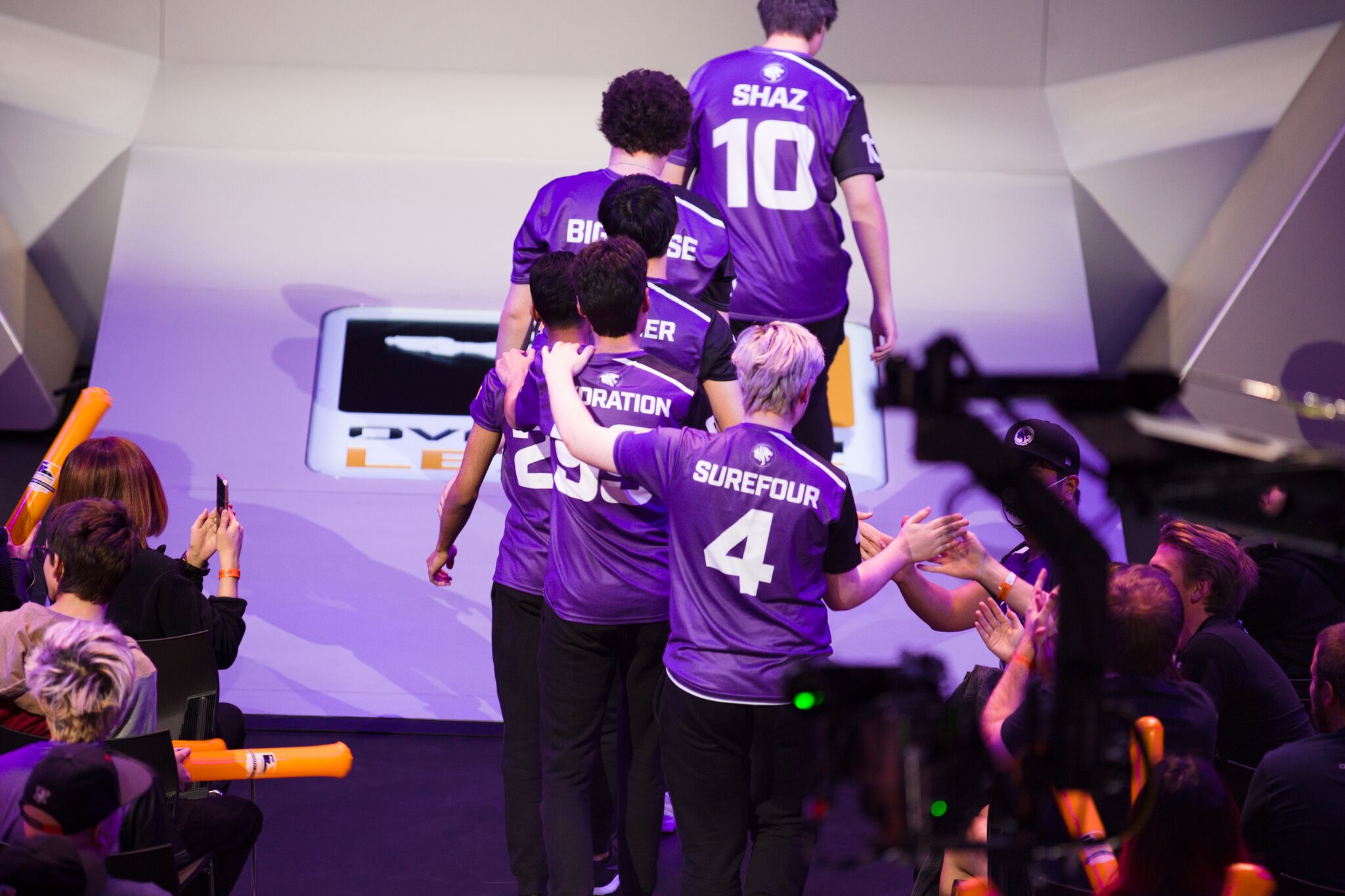 Match kedua disusul dengan tim Shanghai Dragons melawan Los Angeles Gladiators. Match ini sama dengan sebelumnya, yaitu 4 map set. Game 1 berlokasi di Dorado, Game 2 di Temple of Anubis, Game 3 di Ilios, dan Game 4 di Eichenwalde. Gladiators tampil memukau di awal match, saat Doomfist yang digunakan Hydration berhasil menyelinap ke flank musuh dan menghancurkan 2 support sekaligus pada Overtime. Skor akhir 4-0 menjadi kemenangan pertama bagi mereka, dan sekaligus bahan pelajaran bagi tim Dragons.
Dallas Fuel vs Seoul Dynasty
Match terakhir dari Day 1 adalah pertandingan antara Dallas Fuel dengan Seoul Dynasty. 4 map set yang digunakan hampir mirip dengan match Valiant vs Shock, yaitu Game 1 berlokasi di Junkertown, Game 2 di Temple of Anubis, Game 3 di Ilios dan Game 4 di Numbani. Match berlangsung sengit, mengingat kedua tim ini adalah tim pemenang OGN Overwatch Apex dan menggunakan komposisi unik di timnya.
Pada Game 1, Fuel menang dengan skor 3-2 atas Dynasty di Junkertown. Namun di Game 2, Dynasty mengejar kekalahan dengan skor 5-6, menjadikan kemenangan Dynasty di ronde kedua. Lanjut ke Ilios dengan 2-0 berupa kemenangan Dynasty lagi atas Fuel. Dan Game 4 skor imbang 2-2, dengan skor akhir 2-1 menjadi kemenangan pertama bagi Dynasty di Day 1.
Day 2 selanjutnya akan dimulai dengan pertandingan London Spitfire melawan Florida Mayhem. Bagaimana menurut kalian? Seru bukan?